TaskMate Ergonomic Product Line - Additional Products

ERGONOMIC CHAIR SYSTEMS DIV.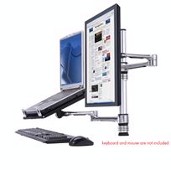 Laptop Holder with Flat Screen Monitor Arm 6915
This Laptop and Monitor holder provides a mounting solution for notebook users who work with additional monitors. The laptop and monitor display can be positioned side by side for a dual screen configuration or separated for detail examination and group work. The display arm supports tilt and pan adjustment while also allowing screen rotation. The non-slip notebook tray features angle adjustment and movable supports that allow for easy access to front panel ports and USB sockets.
Now with the Computer TaskMate, you can have the comfort of a regular computer and the portability of your laptop, all in one!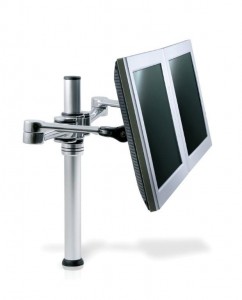 For users who require a dual monitor configuration, this polished aluminium mount can revolutionize any workspace. By attaching this dual monitor mount to the TaskMate, you will be able to enhance your productivity. Holding the two displays side by side or back to back, viewing comfort and productivity is dramatically increased through easy repositioning of the screens by adjusting your screens in and out for the ideal focal length. Ergonomic by design, tilt, pan, rotation, display height and focal distance are adjustable by the user with fingertip control. Cables are cleverly managed for a clean look and to reduce clutter.
Dual Monitor w/Articulating Arm 6912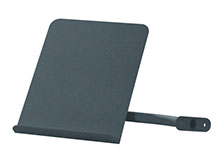 6142 Small Copy Holder Copy/Phone Holder 8" x 10"
Your telephone will move with you at work as well as important documents. The copy/phone holder will help make your static desk free again.
COPYRIGHT 2016 AD MAGIC INC. 125 Main Street Netcong, NJ 07857 888-423-6244 email us