The Stance Angle Chair is now redesigned as the Stance Go!

ERGONOMIC CHAIR SYSTEMS DIV.
The Stance Angle Chair
More Affordable - Lighter - More Versatile
THE STANCE ANGLE CHAIR - one of the most sought after ergonomic chair systems in the world - is now available in a lighter -
more affordable Stance Angle Chair called the Stance Go!!
Sitting position - Kneeling positions and Assisted Standing are all fully supported - and since this concept is patented -
no other chair in the world has these features!!!
SITTING KNEELING STANDING
Some features of
The Stance Angle Chair
include:
More Energy -
Neck and Back Pain Relief
and Increased Productivity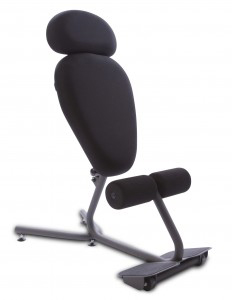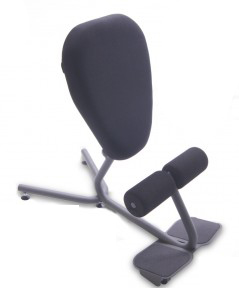 Comes standard with seat extension. Recommended for users taller than 5′ 9″.
The human body is meant to stay in motion and The Stance Angle ergonomic office chair helps provide
that motion throughout your workday. Forward sloped sitting, kneeling and assisted standing are all healthy postures
that provide the worker with unparalleled well-being and energy in the work place.
The Stance Angle is the only ergonomic, sit stand,
3 position chair on the market that helps you achieve these positions and more!
1. SIT
When you must sit, sit healthy! The Stance Angle ergonomic office chair provides the user with a backless seating design that helps build balance and core muscles while providing hours of comfortable use.
2. KNEEL
The Stance Angle ergonomic office chair can also transform into a kneeling chair with one touch of a lever.
Kneeling is a very comfortable and healthy workplace posture that is recommended by many Doctors and Chiropractors.
3. STAND
Assisted standing is the posture that really sets the Stance Angle apart from all other ergonomic office chairs. Standing unassisted for for prolonged periods of time can cause fatigue and muscle soreness.
Assisted standing in the Stance Angle will allow the user to stand comfortably for hours at a time in the
workplace providing good posture, energy and well-being.
COPYRIGHT 2016 AD MAGIC INC. 125 Main Street Netcong, NJ 07857 888-423-6244 email us